2013-01-09
"Wake up brain, live actively"
China-BAAD, May 2012
In China, many aging people did not realize the early symptoms of AD, which leads to miss the optimal chance to AD's prevention and treatment. According to statistics data, the medical consultation rate of AD is less than 27%. Therefore, it is necessary to educate people for basic knowledge of AD's early symptoms. The lower rate of medical consultation of AD also is caused due to not easy for aging patients to visit doctors in hospitals with many procedures required.
One of the missions of China-BAAD is to popularize people for raising awareness of knowledge about prevention and treatment of Alzheimer's and related disorders. China-BAAD organized the event-- "Wake up brain, live actively" in Beijing on May 26, 2012, which aimed at making patients and doctors a better communication and be alert of the early symptoms (Figure: advertisement of education/consultant event). Alzheimer' s disease always companied with some symptoms, such as psychologic disorders, depression and so on, which should be on the alert.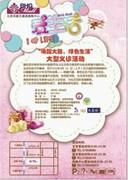 A lot of patients and doctors in Beijing attended this event. Patients came to ask for help, some of whom asked for their own's concerns and some others asked for their family members. Patients urgently wanted to get some tips, which showed that people were very concerned about their health.
Patients not only concerned about theirselves-health, but also showed a big interest on national health policy, pension funds and so on. How to live in a healthy life became topic concerns in people's daily life, which indicated that people have already realized how important the health is.
A patient, Mrs. Zhang, 70 years old, who had a memory problem. She told a doctor that she did not communicate with others anymore because of the memory disorder, which almost destroys her confidence and made her life miserable. This situation was not the only Mrs Zhang one person has, now more and more people who have health problems show the mental health and psychologic disorders. In the past, some people thought memory disorders with aging was normal, but now, it is so glad to see that memory disorders have been paid close attention which make a great contribution to prevent AD.
There were more than 300 patients and doctors attended this event. Clinicians from Beijing Tiantan Hospital, Beijing Union Medical College Hospital, Beijing geriatrics Hospital and Beijing HuiLongGuan hospital had warmly communication with patients and family members. At the end of event, the feedback from attendants indicated that this event was not only to have promoted the popular knowledge about disease, but also have answered plenty of questions asked by patients (Figure: Experts were answering questions asked by patients/ care givers).
China-BAAD would try its best to make good linkage and better communication between patients and medical experts, and to help patients to solve the most urgent, concerned problems.