2010-09-28
"World Alzheimer's Day", 2010
"The Memory Walk" , 2010
On Sep 4, 2010, "World Alzheimer's Day" and "2010 The Memory Walk", were held on Ditan Park in Beijing, which was co-sponsored by ADI-China,Chinese Pathophysiology Council、Beijing Alzheimer's association, Beijing Anding Hospital and The Second Artillery General Hospital.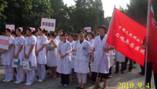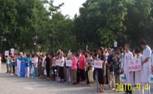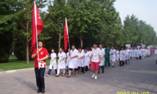 The hospital team The community team The team walking on the road
In the fall, there are many people playing in the Ditan Park, the activity was held in the atmosphere of joy.
More than six hundreds of people who came from the central state government、retired people、universities、community people, more than a dozen of hospitals、district offices、PLA、and other teams participated in the activity。The participants were scientists、intellectuals、medical workers、overseas Chinese、workers、community residents and walking clubs。Among them,the oldest was 95 years old, the youngest was only 5 years old. The deputy director of National Committee on Aging Office Chen, Chuan-shu、party members of the National Population and Family Planning Commission Xi, Xiao-Ping、former vice minister of Ministry of Health Zhu, Qingsheng、PLA General Wang, Jisheng、former vice chairman of the CPPCC in Beijing、vice deputy director of International department from China Association for Science and Technology Liang, Yingnan、Vice chairman of Beijing Science and Technology Association Tian, Wen、former vice chairman of Chinese Association of Pathophysiology Huang, Qi-fu、vice chairman of ADI-China Wang, Jun、director of China Association for Science Popularization Division Lu, Jianwu、Beijing Institute of CAST Wang, Hui、President of east of Beijing CAST Li, Xiaokang attended the opening ceremony of the activity。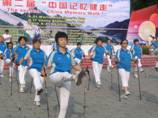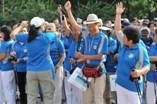 Wang Hongzheng, who is Beijing Union Medical College professor and Executive Director of ADI-China, presided the opening ceremony. Deputy Director of International Department of China Association for Science & Technology, Liang, YingNan said: 'The memory walk' is a good exercise and is a kind of movement for the purpose of fitness for people of all ages, especially suitable for the elderly exercise. 'The memory walk' can increase cardiovascular circulation, prevent senile dementia, reduce blood fat, remove fat, simple to learn, economic savings, greatly welcomed by the masses. " Vice-Chairman Tian, Wen said: "'The memory walk' events held in China will promote elderly patients with dementia and their families, to promote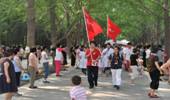 healthy life styles, to make universal access to prevention, treatment, knowledge of dementia diseases, to reduce the incidence of Alzheimer's disease.
Marc Wortmann who is Executive Director of Alzheimer's Disease International (ADI) sent a warm letter to ADI-China. The letter wrote: " Alzheimer's disease and other dementias are difficult diseases and people who libe with it and their families need all the support that we can give them. Therefore it is very important to raise awareness about Alzheimer's. A Memory Walk is a perfect way to combine several aims: first, by putting the spotlight on this disease, second by doing some exercise which is good for the body and for the brain and finally have a nice day when coming together for a shared goal. I hope your Memory Walk in Beijing will fulfill all these elements and a send you warm greetings from London!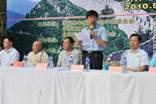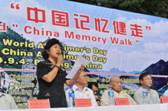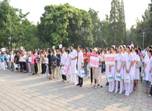 Finally, the Vice-Chairman of ADI-China, Dr. Jun Wang, on behalf of the organizers, announced that the 2010 "China's memory walk" activity start.
More than 600 people, divided into 6 squares, each square with every 10 meters, in a jubilant music "athletes march", the announcer was from the China Conservatory of Music, gave commentary. The General Hospital of PLA Second Artillery Force, led guide, via the platform, along the beautiful Temple of Earth Park Boulevard, progressive north, south to the road more than 5,000 meters, many people moving to follow the team. Public Security Bureau police station police officers of East District, Beijing Union Medical College Laboratory Animal volunteers, Capital University of Medical Students volunteer team of followed the team all the time. "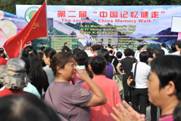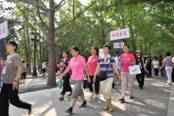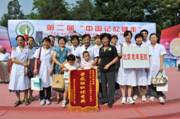 There were lots of experts to give free consult to patients on a volunteer basis at the site of the activity, and ten experts were sent by ADI-China.
Popular science booklets were served to people, and the athletics show played by art team from Hepingli community, international Cross-country walk association-China sports office, art team from Beijing Anding Hospital, won the Best Audience Award. The 20 units attended our "2nd memory walk" was awarded a banner.
BTV channel 6, CCTV(digital TV), Central People's Radio, Chinese old people newspaper, Chinese radio network, Worker's Daily, Guangming Daily, Chinese Business Report, Charity magazine, newspaper of China's population, etc, lots of news media interviewed and reported this the activity.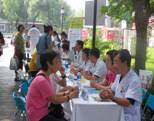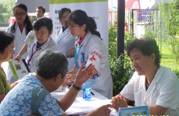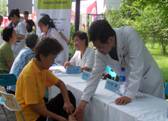 The purpose of this "memory walk" activity is to appeal to all sectors of society to concern about the annually increasing number of senile dementia patients and their families, concern about the prevention and treatment of Alzheimer's disease and senile dementia, vigorously promote the prevention, treatment, care and rehabilitation knowledge to reduce the incidence of Alzheimer disease.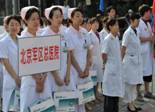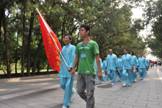 In the gradually aging society today, we aim at vigorously promoting the healthy lifestyle of the elderly, the healthy and scientific way to keep fit. Research and practice showed that the elderly population participating in "memory walk" can be effective in preventing AD's incidence rates and should be vigorously promoted in the people. More and more people should participate in memory walk like activities, get passion, get happy, get health, and get harmony.
This activity was greatly supported by the Tailing cooperation, and Jonson Pharmaceutical Co., Ltd.
ADI-China
Beijing AD Association, China
Pathophysiology Association of China
2010-09-06